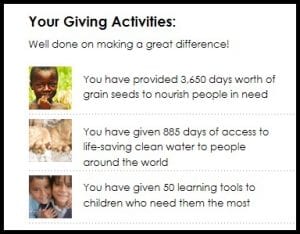 At Zion Transport we are so grateful to you, our customers, for the difference you are making through us!
To date, though the organization Buy 1GIVE 1, we have provided 3650 days worth of grain seeds to nourish people in need, 885 days of access to life-saving clean water, and 50 learning tools to children. Again, we thank you for making it all possible!
To join us in making a difference start giving through Buy 1GIVE 1, or through other charitable organizations or start reaching out to those in need in your community, or give Zion a call today and contribute to our efforts!